Career Building Sales Skills You'll Gain by Working at a Startup
Salespeople are in high demand across all industries, but especially so in the startup world.
Startups are always looking for talented and ambitious salespeople to help them grow their businesses. There are many reasons why working at a startup is a good career move for salespeople. Here are just a few things you'll learn:
#1 – Evangelical Sales
One of the most important skills a salesperson can learn is how to evangelize new solutions.
Selling a new product or service can be difficult, but it's much easier when you can get your customers excited about it. The best salespeople are able to articulate the benefits of their products in a way that inspires confidence and excitement.
You'll learn how to transfer your passion for new solutions to customers and generate sales for customers who weren't planning on buying your offerings.
By working at a startup, you'll master demand generation.
#2 – Broaden Your Skillset
The best way to learn how to work in a fast-paced, high-growth environment is to actually work in one.
Startups are always growing and changing, so you'll never stop learning new things. You'll also get the opportunity to wear many different hats and take on a variety of responsibilities. This is a great way to expand your knowledge and skillset.
Have product suggestions?
Want to share customer feedback with executives? At a startup, you'll be able to communicate easily with the executives, and you're one phone call or slack message away from the product team. Both the product and executive team will welcome your suggestions and ideas.

#3 – Expand Your Capacity
Working at a startup is a great way to push yourself and learn new skills. In a startup, you'll be constantly challenged to do more and to stretch yourself.
This alone will build resilience and capacity for work. You'll need to be able to wear many different hats and take on a variety of responsibilities. This is a great way to expand your knowledge and skillset. The fastest way to expand our skills is to work on new projects, try new things, create new roads where none existed before, and a startup gives you the opportunity to work outside of your job description.
#4 – Work with Key Executives
You may go on calls with your CEO at a startup.
This can enrich your understanding of sales. Especially since some CEOs are exceptional salespeople. You'll get career exposure to executives that have the potential to elevate your career and promote your work as the company grows.
These opportunities won't exist when the organization has grown beyond 500 employees.
When your company reaches 1000 employees, you'll be a data point on a spreadsheet to most CROs. The time to make a name for yourself is in an early stage company where your effort, results, and drive will be rewarded in multiples as the company grows.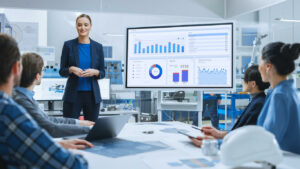 #5 – The Power of Resourcefulness
Being resourceful is a primary key to success in any field.
In sales, it's especially important to be able to find ways to get the job done, no matter what obstacles are in your way. When you're working at a startup you don't typically have large multi-million dollar marketing budgets. At first, you may not even have a sales engineer.
You'll have to find ways to make it work and quickly! Under pressure to grow and deliver results, many salespeople discover they are more resourceful than they thought. Along with resourcefulness, you'll learn to be flexible and creative.
Successful Startup Experience
To be successful in a startup, you need to drive demand for new solutions, broaden your skillset through constant learning opportunities, be resourceful when faced with obstacles, and work closely with key executives.
These are just some of the many things that all successful salespeople possess, which is why they're so valuable to startups. Let our team of sales recruiters introduce you to some of the hottest startups in the nation. Check out our sales roles to learn more.