You've Never Seen a Job Market Like This Before
The current job market is sizzling hot–especially for those with in-demand sales skills.
But you'll be disheartened if you think it's so strong that you can name your price. This is a myth because the job market is hotter for some people than it is for others. For example, Enterprise sales comp has increased by 10K-25K on the base salary.
If you're already making a base salary between 120K-150K, this is about 11%-15%.
But some high-performing Commercial reps are seeing 20K-30K increases in base salaries. And if you're an AE jumping from 75K to 95K base, you're getting a 30% base bump. As usual, it's easy to believe the hype, but the details are essential.
The Rapid Rise of Inside Sales
Frankly, it's a great job market for non-traveling salespeople.
If you're anyone but an Enterprise rep, it's a great time to make a job move.
Today, we have plenty of roles for AEs with three to seven years of quota-carrying experience. There are so many openings companies are interviewing AEs without domain or vertical experience. So if you've been thinking about making a job change and you're an AE, you may never see a better job market.
Job Market Ups and Downs
Unfortunately, good markets never last.
All booming markets die, and everything changes. If COVID taught us anything, it's to anticipate the unexpected. Think beyond the base and benefits if you're in a situation to make a job change.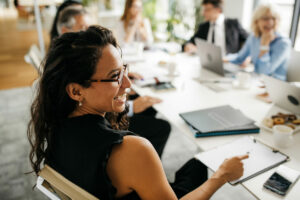 Shopping for a New SaaS Sales Job?
Here are a few pointers when shopping for a new SaaS sales job.
Tip #1: High-quality coworkers are mandatory.
It's no secret that big money is essential to salespeople.
But in the long run, it's one part of a much bigger whole. Eventually, every dollar you take home must provide a return. If your employer isn't getting a return on their investment in you, they will fire you.
But you already know this. However, job changers forget they must look hard at the prospective employers' people. And that's for one simple reason.
You won't get better if you're working with people who aren't better than you are. Sure it's ego-boosting to feel smart, but if you're the one who knows the most, run! It's time to find a new crowd.
You won't be able to make more money if you don't improve your skills. And you won't improve your skills if you aren't around people who are better than you are.
Tip #2: Industry and verticals matter.
If you sell to EdTech and want to sell to corporates, now's a good time to explore that.
The more experience you gain in one area, the more difficult it will be to move outside that area. So there is no time like the present to make the change. It is as easy to do as it ever will be.
Tip #3: Loyalty may stunt your career growth.
And for all the loyalists who can't leave their companies after 7+ years, listen up.
One of my candidates worked for his employer for 14 years. He jumped on a call, and seven minutes later, he hung up without a job. They let him and 25 other reps go because they didn't need them after acquiring another company.
He was in the middle of buying a new home and had to figure out how to tell his wife about his life-changing day.
So be loyal, but be smart. No one will manage your career for you. And the longer you stay after the 7-year limit, the more difficult it will be for you to find a new role. Employers tend to type-cast employees. Staying too long makes you the one who may not be able to adapt.
Tip #4: Find a healthy sales culture.
Salespeople make good money.
Sometimes this creates tension with other departments. A poor sales culture shows up differently inside each organization. Symptoms of an unhealthy sales culture may include scrutinized commissions, frequent comp plan adjustments, and surprise stomaching wrenching calls from finance.
When evaluating a new employer, see what you can learn about the sales culture.
What are the company's beliefs about sales? Investigate and ask to speak with an existing rep. When checking out a new company, more information never hurts. Finally, remember job markets matter.
Recall the 2008 college grads?
Use the current red hot job market to make the changes you've been dreaming about.
It won't last forever.